3 Amazing Nikon FX Lenses That Will Work Wonders on your DX Camera
If you are looking for the best Nikon FX Lenses that will work for your DX camera, you are in the right place.
Because I have compiled a list with the best 3 FX Nikon lenses that won't break the bank and will work wonders for your crop sensor camera. Please note that the lenses are listed in price order. Here they are:
So, here is a more detailed description for them.
Nikon 50mm F1.8 – The Must-Have
This is the first lens on the list and the cheapest. Regardless of its price, this is the lens I have fallen in love with from the first time I've used it.
Nikon 5mm f 1.8 is a must-have lens for any photographer, beginner or pro. Even if you have a DX camera, the quality of your photos will skyrocket. Having a wide aperture with the minimum f-stop of F 1.8, you will get the bokeh that you will never have with a crop sensor lens.
Nevertheless, keep in mind that on the Nikon DX camera, this lens has an actual focal length of 75mm.
For this lens, the price usually is just shy of $200. Here you can check the price on Amazon.
Nikon 85mm F1.8 – The Bokeh King
The Nikon 85mm is the best portrait lens you can get for the money (and for your DX camera). With the longer focal distance, you will get awesome subject separation from the background, and impressive, creamy bokeh.
Please note that the focal distance equivalent for this lens on DX cameras is 127.5mm. That means you will have further separation from the background. If you want to buy a great portrait lens that won't make your wallet cry, this is the one.
It is priced around $450 – $500, but you can check it on Amazon here.
Nikon 35mm F1.8 – The Almighty All-Rounder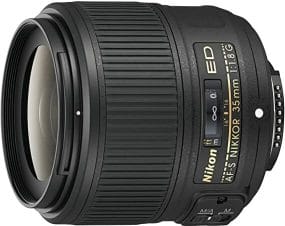 We are coming to the last lens of this list. With this lens, you can go shoot gorgeous portraits or stunning landscapes. It is a great lens to have in your kit.
Even more, you might not even want to take it off your camera after you've mounted it and took a few shots. It's just that good.
Furthermore, the focal length equivalent for a DX camera is 52.5mm. That focal distance is really similar to what we see with our eyes. This means you can get great natural looking photos with this lens.
Needless to say, the Nikon 35mm F1.8 FX is the most expensive of the trio I've listed here. It usually goes around $435. You can buy it on Amazon at this link.
Conclusion
This has been a shortlist I've compiled to help you see what Nikon FX lenses are good on your DX camera. The lenses have been picked keeping in mind the limited budget you might have when you are starting out.